This post brought to you by Slim-Fast. All opinions are 100% mine.
I can remember Slim-Fast products being around for many many years. My Mom used to buy the Slim-Fast shakes when I was a kid and when I became an adult and struggled with my weight, I tried the products as well but now I am learning how much the products have changed over the years and I am really excited to try Slim-Fast out again with their 3.2.1 Plan!  After having 4 children over the past decade, my body needs some serious work and this might be the plan I have been looking for. I don't have hours to spend at the gym and I don't have a fortune to spend on expensive food so Slim-Fast seems like a valuable alternative!
The 3.2.1 Plan includes the all-new shakes plus a flexible and easy plan to allow you to fit it to your lifestyle.  The plan includes a daily allowance of 3 nourishing snacks (nuts, fruit, veggies or the Slim Fast 100-Calorie Snack Bars, etc), 2 Slim-Fast shakes or Meal Bars, and 1 balanced meal.  The all-new, better-tasting Slim-Fast shake flavors include Creamy Milk Chocolate, French Vanilla, Rich Chocolate Royale, Cappuccino Delite and Strawberries n' Cream!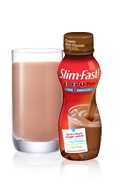 I was able to try out one of the shakes for myself and I chose the Creamy Milk Chocolate shake. I was really surprised that it wasn't chalky tasting like other brands I have tried. I bought a case of it so my husband could try it out too and we also got a box of the Chocolate Peanut Caramel Meal Bars which were really yummy! I am always willing to try out a new weight-loss plan and the 3.2.1 Plan seems like it might work for me, especially now that the holidays are here and we have been eating way too many goodies!!!! I also found that you can get coupons for the shakes by "liking" Slim-Fast on Facebook at http://www.facebook.com/slimfast! You can find the new Slim-Fast shakes in the pharmacy departments of grocers and retailers nationwide including Wal-mart, Kroger, Target and Safeway. You can also purchase online on Amazon.com and in the Slim-Fast Facebook Store!