This post brought to you by Bulbs. Dig, Drop, Done.. All opinions are 100% mine.
Gardening is something I wish I had more time to learn about because it's something I have always wanted to do. I always envistioned myself caring for a big garden but I spend my days caring for a home and 4 children instead.  I was recently introduced to digdropdone.com and I was really excited about all of the information I found on the site!  I never realized that simple bulbs could turn into such beautiful flowers. Something so simple, yet so amazing!!!  When I was browsing the site, I came across the inspirational ideas and I LOVED the idea of the flowers in the water jugs! My kids would love this!!  I never knew bulbs could be used for such creative ideas and the uses go way beyond a pretty garden! You can use them to decorate both inside and out and to make beautiful, colorful gifts for loved ones and friends!!!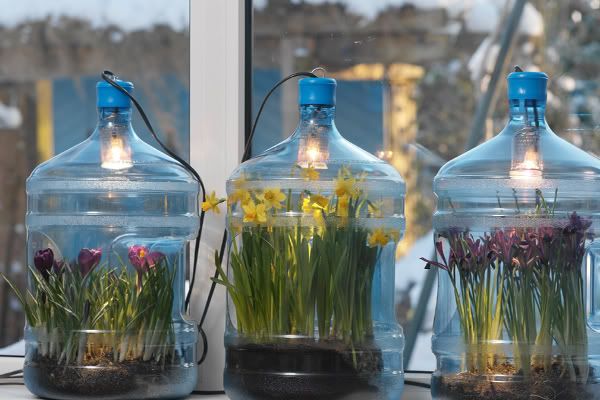 Digdropdone.com offers Bulbs 101 for people who know nothing, like me!  After you learn a little about bulbs, you are ready to explore the "Ready to Plant' section of the page where you can learn everything you need to know about planting bulbs! I love the ladies that pop up in the sidebar too in the "Bulb Tips" feature! I have to say, I definitely relate best to Marcy, the "Super Mom." Sometimes I feel like I should get to have a cape!!!  The only difference is I have 1 more boy than she has.  We have similar experience with bulbs as well. She says that she knows a little about bulbs (but is no expert) and she gardens when she gets the chance....I guess that means when she is not taking care of 3 kids and a house and a husband!  She sounds a LOT like me and I would definitely LOVE to find more time to do things like gardening!!!
If you visit Curbside Chaos, you can enter their contest where you could win a $5,000 yard makeover with the help of Taniya Nayak!!!  Taniya will help the lucky winner by giving them practical tips and advice on how to incorporate bulbs into their landscaping.  For every share on Twitter, Dig Drop Done will dolnate $1 to Rebuilding Together, the nations leading non-profit that is working to preserve affordable homeownership and revitalize communities! On the Curbside Chaos page, you will also find the Garden Guru Tool which is really cool!  You just pick your country, choose your location within your country, choose the type of bulb you want to grow and when you want them to bloom and then look at the planting guide that shows you how to grow them!  One of the bulbs it told me I should try is Scilla. It told me exactly how to plant them and when to plant them. If I want them to come up in May, I need to plant them in the fall!
You will definitely want to visit www.digdropdone.com to learn more!!!