This post brought to you by Nature's Pride Bread. All opinions are 100% mine.
Fall has arrived which means we have been having a lot more home-cooked meals around here. Our schedules are slowly winding down so that we actually have had a minute to breathe and that's nice since it's about to get crazy again as we start preparing our new house to actually be lived in! One of the things we have been enjoying lately at the table is Nature's Pride Bread.  Natur's Pride Bread is 100% natural, has no artificial flavors or colors, no high fructose corn syrup, no trans fat and no artificial preservatives.
During the daytime, my older sister just works a minute away from the house so she has been coming over for lunch almost daily. We eat a lot of sandwiches because it's quick and easy and we LOVE the sandwich recipes we have found on the Natur's Pride website! One of my sister's favorite is the BLT!  The recipe is below and we make it the same way only we use the Healthy Multi-Grain variety from Nature's Pride!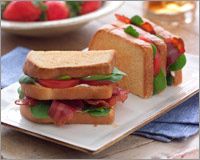 BLT Club Sandwich 
12 slices Nature's Pride® Country White bread, toasted

¼ cup reduced fat mayonnaise

8 lettuce leaves, such as leaf lettuce, romaine, fresh spinach leaves or combination of greens

12 slices turkey bacon, cooked until crisp

12 thin slices tomatoes (about 2 large tomatoes, thinly sliced)
Spread one side of each slice of bread with one teaspoon mayonnaise. Arrange a lettuce leaf and three slices bacon on top of four bread slices. Top with another slice of bread, then top it with three tomato slices, and remaining lettuce leaf. Top with another slice of bread, mayonnaise-side down. Press down gently, then cut each sandwich in half or quarters.
Check out the recipes here and let me know in the comments below which one you think looks yummy!!!  Also, be sure to like Nature's Pride on Facebook so you can enter the Bread for No Bread Contest where you might be one of the weekly winners to win FREE bread for a month!!!