This post brought to you by Vectra flea & tick control. All opinions are 100% mine.
I think anybody that has a pet will agree that the biggest nuisance is fleas and ticks.  Both of these pests are not only annoying but they also have the potential to carry diseases to both your animals and your family.  Fleas can spread diseases like tapeworm, flea allergy dermatitis and anemia. Ticks often feed off of wild animals which also make them a carrier of diseases. Pets are a part of your family and  you want to protect them just as you would any other member so that's why you need to check out Vectra!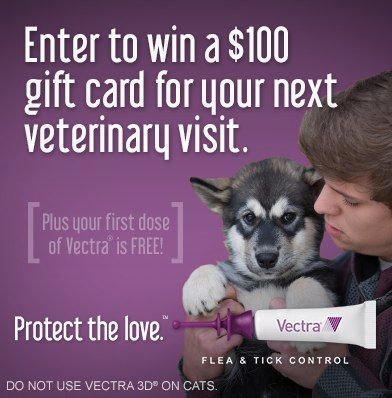 Vectra 3D is a long lasting, broad spectrum parasite control that kills parasites on contact. For your small dog or puppy you can use Vectra for Dogs and puppies and for your feline friends, try Vectra for Cats and Kittens. The patented applicator makes it easy to use and it's effective for a month, even after swimming and baths. Vectra repels and kills fleas, mosquitos, ticks, biting and sand flies, lice and mites.  It also kills adult fleas and prevents the development of fleas at all stages! 
 You can enter Vectra's Protect the Love Facebook Sweepstakes for your chance to win a $100 Gift card to use at your next vet visit. A gift card will be awarded each week throughout the entire sweepstakes.  Each entrant will also be given a free dose of Vectra flea & tick control! Entrants can print out a coupon for a free dose to redeem at a Vectra veterinarian near their home.  You can also follow @VectraPet on Twitter! 
*Protect the love is the official social identity of Vectra flea and tick control. Vectra is a product of Ceva Animal Health, LLC and has multiple formulas for dogs, cats, puppies and kittens. Do not use Vectra 3D on cats!