This post brought to you by Social Power. All opinions are 100% mine.
Social media plays an unbelievable part in our every day lives. It allows us to share nearly every aspect of our lives with people from all over the globe including photos, ideas, feelings, etc. We have seen social media make a huge difference in people's lives, both good and bad, but what if we could do even more? Social Power is the platform that allows users to harness the untapped power of social media to tackle every day issues, no matter how big or small to create meaningful, long-term change. It kind of reminds me of the old saying, one person cannot do everything but every person can do something. Acting alone, it would be very difficult, if not impossible to make a huge difference in the world but when we all work together, we strengthen our power and that power is enough to make significant changes and contributions. Social Power uses the illustration that a single thread has limited strength but a million threads spun together has unbelievable strength.  Social Power enables users to resolve issues that they could never achieve alone. More importantly it allows every day, normal people to make a difference. 
I joined Social Power today and I was immediately impressed. There were issues right in front of me that I was able to choose to support. The first one I saw was that Facebook should have a "dislike" button. I chuckled at that one but I supported it because I have long thought Facebook needs a dislike button! Another issue that I loved was that supermarkets should have a separate lane for couponers! There is nothing worse when I am in a hurry than to get behind someone with 100 coupons. I liked it and was able to share it on my own Facebook wall to help gain supporters. If you have something you would like to see changed, you share an issue. You and Social Power will then work together to raise awareness for it in your own social networks. Once 1,000 people agree that your issue also affects them, it becomes an initiative. Once it's an initiative, the Agents of Change are notified and they propose an acceptable resolution. 
It took me awhile but I finally came up with an issue that I would love to see changed. After my trip to Chicago last week, I realized that restaurants dump out SO much food every single day. To know this is happening with all of the people in our own country going hungry, it made me sick to my stomach. So I created an issue to encourage restaurants to donate their leftover foods to the hungry!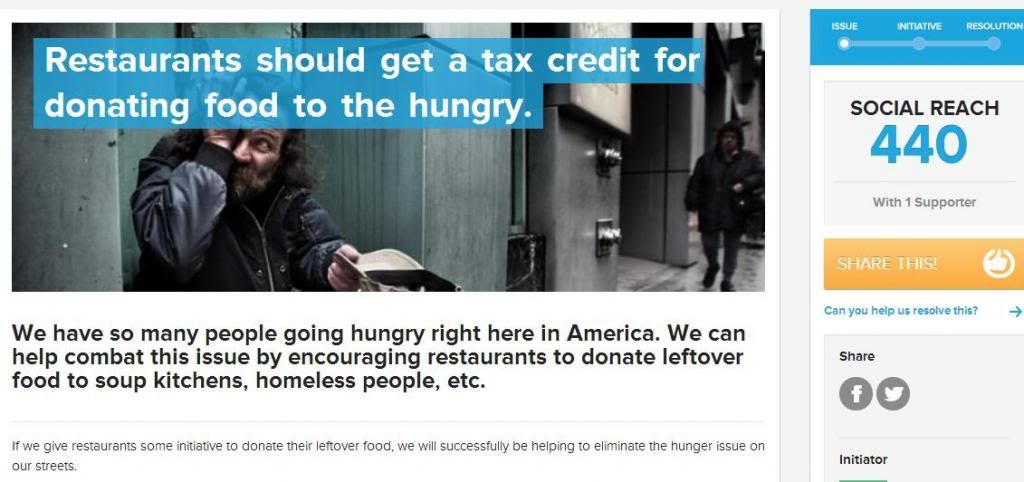 I encourage you to visit SocialPower.Com today and start creating issues that you feel are worthy of change. I would love it if you would support and share my issue with your network as well! You can get to my issue by clicking the following link!  http://socialpower.com/i/578/Restaurants-should-get-a-tax-credit-for-donating-food-to-the-hungry