This post brought to you by VISIT FLORIDA. All opinions are 100% mine.
 Ponce de Leon explored Florida in 1513, paving the way for billions of visitors from all over the world to come visit the Sunshine State. Florida is among our top picks for family vacations and has been for as long as I can remember. As a matter of fact, we were just there over Christmas break. What better way to celebrate 500 years than to give away a trip every week in 2013. That's right! Florida's 500 Years of Adventure Sweepstakes launched on January 14 and runs throughout the entire year. From beautiful beaches and world class spas to fabulous fishing and Old Florida Charm, VISIT FLORIDA is showcasing why Florida has been the world's destination of choice for 500 years. 
We have been to so many of the great places in Florida. Most recently we spent an entire day in the city of St. Augustine which is so rich with history and has so much to do. We visited the Ripley's Believe it or not Museum, enjoyed  a Red Train Tour and took the kids to the Alligator Farm. The weather was beautiful and we could not have asked for a better place to visit. From there we arrived at our final destination where we would spend the next week. Our condo was in Kissimmee and we went to so many fun places like Disney, Legoland and Universal Studios. The guys took a deep sea fishing excursion at Clearwater Beach while my mother and law and I took my daughter and our little guy to pick oranges and enjoy a day of sighseeing, eating local cuisine and shopping! 
Hurry up and enter the Florida's 500 Years of Adventure Sweepstakes for your chance to win a new Florida adventure every week. Each exciting adventure package includes a rental car, hotel accommodations and other exciting "What to do about town" activities!  My husband would absolutely love to win the Surf, Sand and Speed adventure but I would prefer a relaxing getaway like the Key West Escape! 
I entered to win this week's adventure and I am crossing my fingers and hoping I am the big winner! I could use a vacation away!!!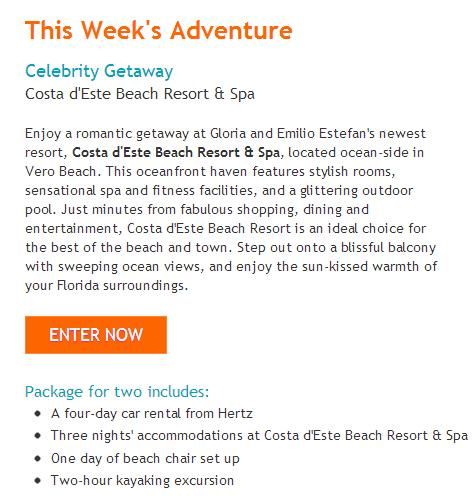 Click to enter the Florida's 500 Years of Adventure Sweepstakes! Make sure you also folllow @VISITFLORIDA on Twitter to keep up with the latest Florida adventures. After you enter correctly, you will receive a confirmation like this!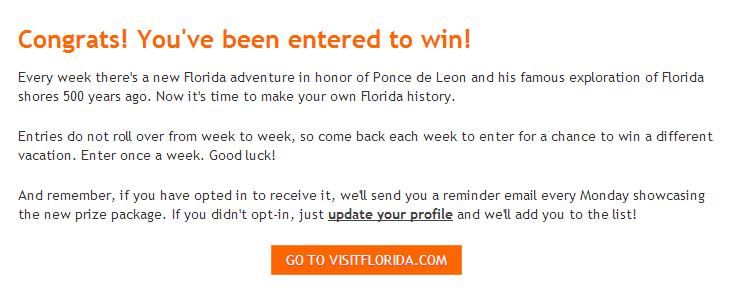 Good luck!